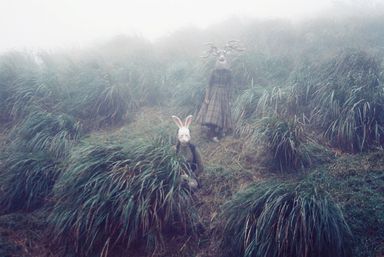 I used to live just down the street from state park. It was a wonderful place to explore as a child, but around the time I was ten or
eleven
, rumors started to reach my ears about people doing weird things in the park. I remember one story was about a cult of witches that would hold their ceremonies deep in the woods in the park, where they would
sacrifice
birds, and squirrels to whatever Gods or Goddesses they worshiped. I was not the bravest of kids at that age, and I recall vividly, nearly twenty years later, something that happened to me in that park.
Normally, even after I heard the rumors, the park didn't scare me. It was a place I'd always known, a place I grew up playing in. My mom and I would take evening walks, and pick flowers (which is a no-no, but we did it anyway). My dad and I would sometimes fish the river running through the park, and as a special summer treat spend a week camping. However, one evening ruined all the magic the park once held for me.
I was around 10 to 12, not sure exactly, and I was playing in the park with some friends. We were on the north side of the river, which was the farthest part of the park from my house. We played hide and go seek, one fall evening. As it got later, I remember a fog rolling in, seemingly at the snap of your fingers. I was getting
creeped
out and I called out to my friends, saying that it was time to head home. I hated being the
scaredy
cat, but the fog was creeping me out.
I waited to hear back from my friends, but couldn't find them. I began to really spook myself. I was convinced that I heard voices, and that I was being watched. I remember not being able to see more than a stone's throw away from me. My fright got the best of me and I ran off, not waiting for my friends.
I literally ran, and I headed in the direction of the foot bridge leading over the river, back to the south side of the park. As I reached the bridge I saw two girls, probably in their mid to late teens, standing by the bridge. I stopped in my tracks, all the stories about witches coming back to me instantly.
I can only guess at their motivations, but upon seeing me, the girls seemed to notice my fright, even if I wasn't wearing it on my face I was certain they could have smelled it on me, like dried sweat. For fun, for some sinister reason, I don't know, the girls chased me. They yelled taunts, and they chased me. I was so scared. I ran back the way I came, away from the bridge, and back into the woods. I ran and I hid.
I don't remember how long I stayed hidden, but eventually I made my way out of the woods. I do remember it was dark, and I was getting pretty cold. I didn't see the girls on my way out this time, but for the next year or so I remember I would not go to the park without at least one of my parents.
-Jen